Choose ONE question below and write an essay response.
A) "My yesterdays walk with me. they keep step, they are gray faces that peer over my shoulder." Discuss the role of the past in two OIB works.
B) Many works of literature feature a moment of revelation. Explore the importance of this moment in two of the works on your OIB syllabus.
C) Explore in what ways and for what purposes two OIB writers have created vivid sense of place or landscape, be it rural or urban.
You must choose one question and write an essay response.
You will begin at 15H and you must send your essay back to me between 17h – 17h30 to my ENT email.
It is preferable that you type your essay in a google document (it is easier to give you comments–make sure to give me the right to modify your document and not just view it). You may also take photos of your handwritten essay.
In the title of your document + the subject of your email, write your name and label it clearly – ex : Charles EARDLEY OIB Comparative Essay May 15.
To prepare mentally, please review the essay rubric below (and, you could have a look at the comments I gave you on your last written comparative essay and the samples of other student writing given to you/uploaded to the blog):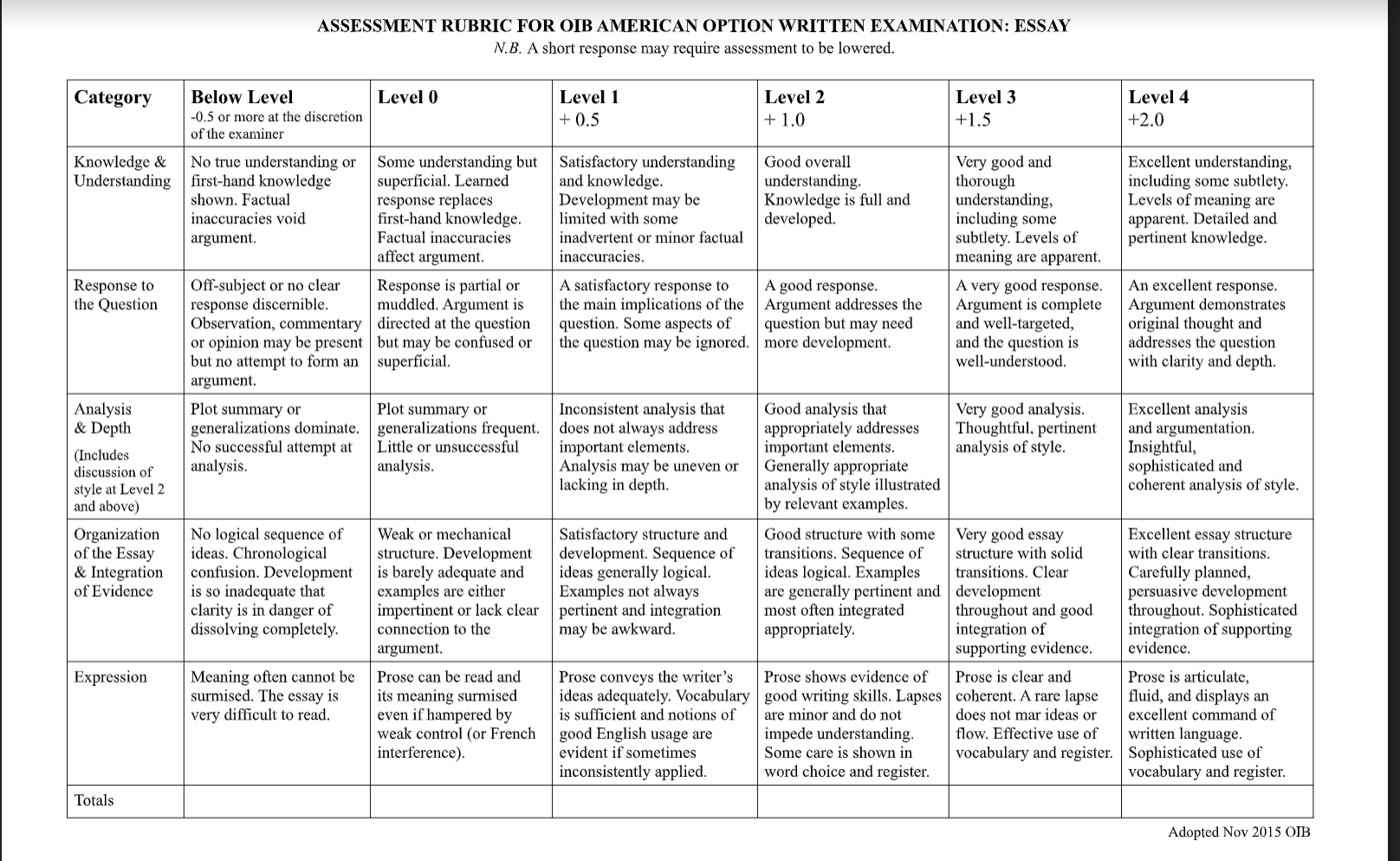 You must compare/contrast two "works" studied so far. Possibilities of "works" are: The Handmaid's Tale, Love in the Time of Cholera, Frost's poems, Intimate Apparel, Stranger in the Village, Sweet Bird of Youth (wow, we've read quite a lot this year, you should be proud!).
(Please do not write an essay with just The Handmaid's Tale and Love in the Time of Cholera, as we have already done so. You can use one of these two works if you desire, but choose another for your second work)
Tip: Don't forget to include "style" (devices, discussion of language) in your analysis for full credit.
Thesis: Make a specific thesis with a defined angle to the vague question. Remember, an anglophone thesis is the "conclusion," not a question. You then will be like a lawyer who uses evidence to prove your already very specific conclusion.
Organization: There are no real rules but your organization has to be clear, persuasive, and easy to follow. You can write a thesis that includes both works and organize paragraphs that mix the two works together, or, write a two-sentence thesis and transition halfway through your essay to the second work. Comment on elements of style as you go along and highlight how they enhance your argument. Use your paragraphs to organize your points (start each paragraph with a mini-thesis to keep us oriented).
Focus on what the authors are doing, and be careful not to talk too much about the characters like they are real people, but more instruments that the authors use to create effects.
Notes: For now, you may use them, but keep in mind that the real exam will be without notes. To use them efficiently and not waste too much time "looking for answers", get your notes/books organized before you begin.